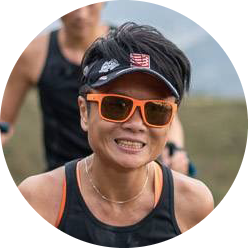 Rhoda runs HK4TUC for A Drop of Life
Rhoda Cheung

My Story
我們可以為健康而跑、為運動的喜悅而跑、為自己而跑,更可以為別人而跑。
「釋放個人潛能,凝聚回饋動力」2012年參加了人生第一次山糸馬拉松雷利78km比賽,隊友受傷,用了超過24小時才完成。衝過終點後雖然四肢無力,但很感動,用雙腿體驗到貧窮學生每天去上學的經歷,也同時為100個生活於惡劣水源環境下的一班小朋友籌得用於衞生服務的款項。
就這樣,我就開始了山系馬拉松。「星星之火可以燎原」每個人的小事情,都可以凝聚大意義。今年我訂下目標希望嘗試用自己雙腿挑戰一次越野超馬,藉此籌款幫助有需要的人。我將會於今年1月25日至1月28日在香港參加 - 四徑賽事,活動以72小時為限,參加者須以逆走方式完成香港四大山徑,依次為「麥、衛、港、鳯」,起點是屯門何福堂,終點是梅窩碼頭綠色郵筒。活動全長298公里,選手只能在轉換山徑時進行補給,或於路線沿途購買補給品,中途亦不能使用行山杖。60小時內完成所有山徑,可獲「完成者」(Finisher) 名銜,72小時內完成則為「生還者」(Survivor)。相對於之前參加的國內外賽事,今次四徑超馬需要自我支援,將會更加困難同辛苦,大會強調這不是一項比賽,為的不是獎金獎牌,而是一項榮譽,一個挑戰。
我希望藉著今次四徑超馬,助香港四個不同連繫社區的非牟利慈善平台籌募港幣$40萬,為香港及其他偏遠山區投入更多運動或教育資源,希望各位可以多多益善少少無拘,支持我今次香港四徑超馬善行,令更多人可以體驗到運動改變人生。如果你有宗教信仰,請為我祈禱,祝福我順利完成賽事,避免遇到任何意外,帶著平安及健康的身驅歸來。
0 days left to donate
This campaign closed on Feb 28, 2020 and the money is being sent to people in need. Still want to donate? You can give directly to A Drop of Life.
Rhoda runs HK4TUC for A Drop of Life
Rhoda Cheung
My Story
我們可以為健康而跑、為運動的喜悅而跑、為自己而跑,更可以為別人而跑。
「釋放個人潛能,凝聚回饋動力」2012年參加了人生第一次山糸馬拉松雷利78km比賽,隊友受傷,用了超過24小時才完成。衝過終點後雖然四肢無力,但很感動,用雙腿體驗到貧窮學生每天去上學的經歷,也同時為100個生活於惡劣水源環境下的一班小朋友籌得用於衞生服務的款項。
就這樣,我就開始了山系馬拉松。「星星之火可以燎原」每個人的小事情,都可以凝聚大意義。今年我訂下目標希望嘗試用自己雙腿挑戰一次越野超馬,藉此籌款幫助有需要的人。我將會於今年1月25日至1月28日在香港參加 - 四徑賽事,活動以72小時為限,參加者須以逆走方式完成香港四大山徑,依次為「麥、衛、港、鳯」,起點是屯門何福堂,終點是梅窩碼頭綠色郵筒。活動全長298公里,選手只能在轉換山徑時進行補給,或於路線沿途購買補給品,中途亦不能使用行山杖。60小時內完成所有山徑,可獲「完成者」(Finisher) 名銜,72小時內完成則為「生還者」(Survivor)。相對於之前參加的國內外賽事,今次四徑超馬需要自我支援,將會更加困難同辛苦,大會強調這不是一項比賽,為的不是獎金獎牌,而是一項榮譽,一個挑戰。
我希望藉著今次四徑超馬,助香港四個不同連繫社區的非牟利慈善平台籌募港幣$40萬,為香港及其他偏遠山區投入更多運動或教育資源,希望各位可以多多益善少少無拘,支持我今次香港四徑超馬善行,令更多人可以體驗到運動改變人生。如果你有宗教信仰,請為我祈禱,祝福我順利完成賽事,避免遇到任何意外,帶著平安及健康的身驅歸來。
---
Campaign Description
這次所籌得的善款將用作於重建尼泊爾及緬甸偏遠山區的學校,提供理想、安全及衛生的學習環境,同時因應情況增建課室,提供更多資源讓學校能加開較高年級和容納更多學生,以知識帶領他們脫貧。
About A Drop of Life
A Drop of Life is a non-profit organization registered in Hong Kong. We follow the mandate: Passing our love and working for love. We believe that safe drinking-water is a common good. This is a basic human right that everyone should have. We aim to ensure the access to water and sanitation a reality for everyone. Since 1998, we have been building rain-saving water cellars and reservoirs in arid areas of China, organizing relief efforts for natural disaster victims and improving poverty situations. Moving forward we will extend our service and expertise to those in need in Nepal and Cambodia. Up to today, over 820,000 people were benefited from our various charitable programs and activities.